January 19th, 2015
I am lucky to be able to travel and meet artists in the USA and other parts of the World and I have had the great good fortune and pleasure recently to meet two wonderful artists who I am bringing to the North Coast of Ireland so that they can conduct two separate painting workshop in the Flowerfield Art Centre in Portstewart.

The first is Stephanie Birdsall from the USA. Stephanie will conduct a 5 day workshop which will initially focus on still life in oils but towards the end of the week the group will have the opportunity to go on to the coast and paint plein air landscape / seascape.

The core details are described under 'Events' but take the opportunity to look at Stephanie's work on her website at stephaniebirdsall.com

The other wonderful artist is Svetlana Orinko. Svetlana was academically trained in the classic manner in the National art school of her home country of Ukraine but in 1992 she moved to New Zealand and has been in the forefront of the New Zealand art scene there for over 20 years.

She is primarily a watercolour painter she uses many media and in recent years has been developing new and creative uses of this vibrant medium. Her work earned her the title of New Zealand's Most Innovative Water Colour Artist of the year in 2014.

Once again have a look on her website at...... svetlanaorinko.co.nz

Some artists from overseas are considering the idea of taking a painting holiday on the North Coast and going to both workshops. Now, I know that many people focus on either oils or watercolours, but both Stephanie and Svetlana are delighted to help those who are new to a medium and both have a deep knowledge of what is needed to make the transition from one medium to another.

The costs are low for this standard of tuition so book now before the groups are full up.


October 18th, 2014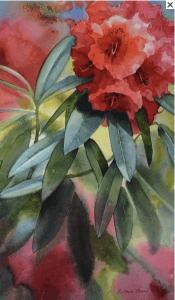 I have just returned from a wonderful workshop with over 80 painters at the Blackstone Ranch in Taos, New Mexico. Painters from all over the world from, Israel, Korea, the USA, Ireland (me) and New Zealand among others, came together to study with David Leffel, Sherrie McGraw and Jacqui Kamin. I have mentioned them before so look them up, they're wonderful realist abstract painters.

There were so many great painters there each with their own style it was a feast of painting from breakfast in the morning, demonstrations of technique and painting practice during the day and then discussion over dinner in the evening. Toatal emersion in art and painting technique.....wonderful....( My friend Dave thinks that I need to get out more but then he's not a painter).

I learn so much in such an environment. Ideas are discussed, kicked around, tried out and built upon and just meeting and building a society of artists is wonderful. One of the artists that I met was Svetlana Orinko from New Zealand. Svetlana is the wonderful water colourist whose work I have shown as my lead. Her early training was in Russia and she produces beautiful botanical work, figure work and her paintings of the landscape of New Zealand show me the silent majesty of that ancient place with a breath taking and unique technique. ( zoom and you'll see what I mean.

I'll say more about my experiences in Taos including the Nicholai Fechin and Georgia O' Keefe museums




March 23rd, 2014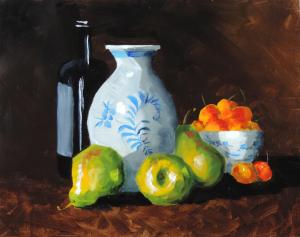 Pears and Cherries

19th March 2014
CHALLENGE YOURSELF
I find painting an everlasting opportunity to explore the possibilities, not only of paint but of my own thinking.
You see I used to be a psychologist and my job entailed helping people and organisations look at the reasons why they did what they did and explore alternatives, so I continue that process with my own thinking. Iím always thinking about how I can improve that is why I travel to work with painters whose work I admire.
Next year I hope to travel to Oregon to work with a painter called Quiang Huang ( pronounced Chong Wong ). If you have a look at his work you will see that he has an exciting and unique style which is very different from my own.
Well, I had finished a painting called Pears and Cherries and I wondered what it would be like to use some of Quiang Huangís brushwork style in another version of the painting. I wasnít trying to copy his dynamic style exactly but to change my own careful brushwork and pay attention to my thinking as I did so.
The result is below:

Pears and cherries exercise
I found the exercise very revealing.
1 my new brushwork style was much faster
2 there was much more energy
3 More importantly I discovered that I am cautious when I put brush to canvas and that I donít need to be just as cautious.
This last point was the most important piece of learning for me.
When I started painting in my youth I was captivated by the style of illusionistic painting called trompe líoeil (to deceive the eye ). This is very controlled and precise and so I developed a Ďcarefulí style. It was fun to throw all that aside and just explore paint.
Now, it is important for me to say that Quiang Huang has complete control over his style but my exercise released me from some of my need for control and that is where the learning is for me.
I donít think that I will change my style in any fundamental way but my attitude to the way that I work has changed and I now have more understanding of my internal process and I suspect that that will affect my work in subtle ways in the future.
In April next year I hope to push these boundaries even further when I meet him in the USA. Iíll tell you about it when I return.

BY THE WAY

MANY PEOPLE WHO VISITED MY CURRENT EXHIBITION HAVE ASKED FOR PRINTS AND SO I'M REPHOTOGRAPHING MANY OF MY PAINTINGS AT THE MOMENT AND THIS WILL MEAN THAT MANY MORE PRINTS WILL BE AVAILABLE SOON